LET IT TWANG! Top Ten Twang Albums of 1999

---
#1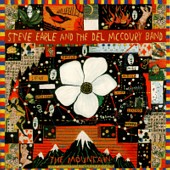 Steve Earle & Del McCoury Band -- The Mountain (E Squared 51064).  Oh boy.  Steve Earle is in a singer/songwriter league all to himself, and the Del McCoury Band plays bluegrass the way God and Bill Monroe meant it to be played.  Get 'em together and what have you got?  Earlegrass.  The music smolders underneath Earle's rugged, time-worn voice and Del McCoury's high tenor can shatter glass.  The musicians are peerless:  Jason Carter plays a scorching fiddle, and Ronnie McCoury's mandolin can be high-lonesome or high-octane at the drop of a hat.  Earle brings in Iris Dement to sing a duet "I'm Still In Love With You", and a host of friends, including Gillian Welch and Emmylou Harris, to pay tribute to the late Roy Huskey, Jr. on the disc's closing number, "Pilgrim".  Earle has promised this is not going to be his only bluegrass album; let's hope he keeps his promise.  This is, in my humble opinion, Earle's best musical statement to date and easily the best release of the year.







#2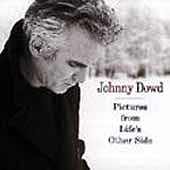 Johnny Dowd -- Pictures From Life's Other Side (Koch 8053).  When Johnny Dowd crawled out of the basement with his homemade Wrong Side of Memphis in 1997, he rattled a lot of cages and impressed a lot of folks.  This time around he's on Koch records and he's got a bigger budget, a larger canvas, and a bigger more muscular sound to his tortured and twisted tales from "life's other side".  Read:  The DARK side.  Dowd's music falls in the darker corners of Tom Waits and Hank Williams -- odd and ugly, but frighteningly familiar.  Dowd's topics range from a botched suicide that has left a man paralyzed and locked in his damaged cage, to infatuation and stalking of a "schoolgirl".  This music ain't for everyone, but fans of Tom Waits will feel right at home: challenged and chilled to the bone.







#3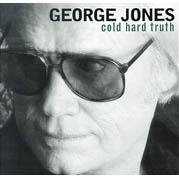 George Jones -- Cold Hard Truth (Asylum 62368).  The Possum came back from being dropped (the nerve!) by MCA with his best record in years, in the more understanding and enlightened hands of the folks at Asylum Records.  With this record, George is fronting a great country band which includes Stuart Duncan on fiddle.  The cd begins with "Choices", a knowing statement about living with the consequences of life's decisions, something George can sing about with more authority than anyone currently on the Billboard charts.  The cd's title track is as good a ballad as he's ever done.  If you're a fan of George's classic 70's work, this disc will sound like a long lost friend.







#4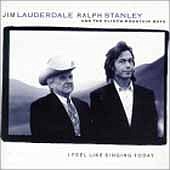 Jim Lauderdale with Ralph Stanley and the Clinch Mountain Boys -- I Feel Like Singing Today (Rebel 1755).  This is a fine bluegrass collaboration between alt.country stalwart Jim Lauderdale and bluegrass legend Ralph Stanley and the Clinch Mountain Boys.  Lauderdale is a great songwriter, but his contributions to this disc go way beyond that -- his soft country-gentleman voice is the perfect foil for Mr. Stanley's weathered moan, especially on the stirring a cappella gospel number "Like Him".  If you're looking for peerless bluegrass picking, singing, and fiddling this is a great place to go -- a nice bookend to the Earle/McCoury collaboration at the top of this list.  Never mind those critics who say Lauderdale doesn't have the chops to do this sort of music -- his spirit makes up for any vocal shortcomings that a purist might detect.







#5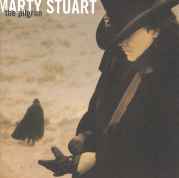 Marty Stuart -- The Pilgrim (MCA Nashville 70057).  The guest list for the Marty Party has been infinitely refined -- the guests on this disc include Ralph Stanley, George Jones, Emmylou Harris, Johnny Cash, Pam Tillis...  From reading interviews with Marty, it seems as though a pang of conscience got him, and good -- the theme of this concept disc is redemption, and Marty has compared it to his own musical redemption.  And what a complete saving grace it is.  The Pilgrim crackles with great singing and playing, with styles ranging from Marty's patented boom-chicka-boom to bluegrass instrumentals, honky-tonks, and even a poetry reading from the Man In Black.  The story is about a man who becomes involved with a married woman, although she never bothers to mention this fact.  One day her husband finds them together and kills himself in front of them, and The Pilgrim leaves town in search of redemption -- which he eventually finds within himself as he looks out over the Pacific ocean.  Partly based on a true story, this is a disc we all knew Marty Stuart had in him.







#6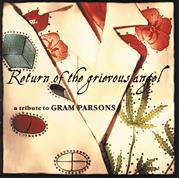 Various Artists -- Return of the Grievous Angel: A Tribute to Gram Parsons (Almo Sounds 80024).  Gram Parsons did a lot for what we call "alt.country" today -- he helped a broader audience see the appeal of country music; he wrote a bunch of great songs; plus he gave us Emmylou Harris, perhaps his greatest gift.  Emmylou has returned the favor by putting together this wonderful tribute disc that features stuff from Gram's all-to-brief career:  Steve Earle and Chris Hillman "High Fashion Queen", Elvis Costello "Sleepless Nights", Gillian Welch "Hickory Wind", Lucinda Williams and David Crosby "Return of the Grievous Angel".  Did I mention Beck, Wilco, the Pretenders...?  This is a loving tribute full of unexpected twists and turns.







#7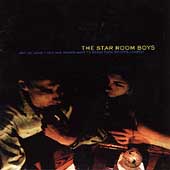 The Star Room Boys -- Why Do Lonely Men and Women Want to Break Each Others' Hearts? (Checkered Past 17).  When lead singer Dave Marr admits "I've been all around/And I know how to be a woman's kind of man...", on the cd's title track, you know he's exploring dangerous territory.  In fact, there ain't a happy note on this entire disc, but it's a sublime adventure through the world of the brokenhearted.  The Star Room Boys are a straight-country honky tonk outfit from Georgia, featuring great pedal steel and lead guitar work driving the terrific songwriting.  The two guitarists often sound at odds, like petulent children sparring for attention.  But most of the songs are mid-to-slow tempo, and Marr's singing is somewhere between the pained howl of Richard Buckner and the stately tone of Merle Haggard, an obvious band influence.  So whatcha got here is serious drinking music.  "I can't believe I ever woke up without her here before" begins the cd's opening number, "Gastonia", a tale of woe in which our fearless protagonist hops in his car and goes looking for his girl as she drives (he thinks) to her hometown -- "But if she don't want to be found in that little redneck town I'll be cryin' to her mama when the sun goes down today."  Dangerous territory indeed, but a fun ride nonetheless.







#8

Buddy Miller -- Cruel Moon (Hightone 8111).  Buddy keeps pretty good company:  He plays guitar in Emmylou Harris' band and hangs out with Steve Earle.  In fact, Steve Earle says Buddy is his favorite country singer.  And this, Buddy's third disc for Hightone Records, proves why Earle has such a high opinion.  This record, and his previous effort Poison Love, both have an underlying soulful groove that's not present on most country albums.  His wife Julie, Emmylou, and Mr. Earle all lend great vocal support -- and Buddy's own production is gutsy and raw.  







#9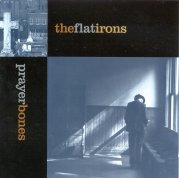 The Flatirons -- Prayer Bones (Checkered Past 13).  Lead singer Wendy Pate has a classic voice – hard to pin down, but it sounds smoky, full, and heavy – at once wounded but ready to put up one last, desperate fight.  The music is sparse, restrained and haunted, like the soundtrack for a shadowy alley leading nowhere in particular – perfectly suited to showcase Pates amazing vocals.  Country music?  Mostly.  Hard to describe?  Yes.  They do get the award for weirdest, most unlikely cover song:  Ozzy Osbourne's "Crazy Train" which is one of the cd's few upbeat cuts.  Elsewhere, Pate sings "Blame your grandfathers, or anyone else, but you got here all by yourself" and the effect is devastating – you're indicted, convicted, and sentenced before you can even catch your breath.







#10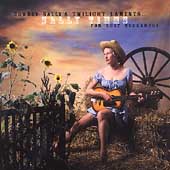 Sally Timms -- Cowboy Sally's Twilight Laments for Lost Buckaroos (Bloodshot 61).  As if your cd player were channeling a long-lost barn dance broadcast that's been drifting through the cosmos for fifty-odd years, this cd begins with the crackling static of a weak AM radio signal.  An announcer emerges from the noise to introduce Cowboy Sally, and you're immediately seduced by the glowing shiver of "Dreaming Cowboy", the cd's first track.  Right away you realize that this ain't no barn dance.  It's more like "Trinity Sessions" vintage Cowboy Junkies meets Gene Autry:  A collection of dark and spooky campfire songs from a woman who sounds like she's loved and lost one too many times.  There's an impressive list of songwriters here, including Robbie Fulks, Jeff Tweedy, Jill Sobule, and... (OH YEAH!) Johnny Cash whose "Cry Cry Cry" is one of the disc's highlights.  Cowboy Sally is, of course, Sally Timms, a veteran of the underground music scene and the Mekons, and her big, rich voice is supplemented here by pedal steel, fiddle, banjo...all the fixin's.  It doesn't sound a bit like the insurgent hell-razing alt.country we're used to from the folks at Bloodshot -- this relatively hushed music sounds unmoored in time, as if Cowboy Sally is the ghost of all broken hearts, numbed by the emotional fallout, come back to haunt us with her straw hat and guitar.